Second Annual Credit Union
Ride for the Kids
April 23, 2006
The 2nd Annual Credit Unions 4 Kids Bike Ride Event was held Sunday, April 23, 2006. We had 62 motorcycle riders show up for this event. The SwRI Research Riders Group was a big part of this event. The following Research Riders worked the event: Milton James, Karen Mathias, Vernon Markworth and Jon Matthews (event chairperson).
Our current Research Riders president, Don Moravits and several other members of our Research Riders showed up to help make this event a success. The event had riders taking a hill country ride of either 125 miles or 175 miles. Both routes had the riders trying to answer 20 questions along the way…making the day a very interesting one as riders had to navigate along the route looking for clues. Once the riders returned they enjoyed music, food & drink, chair massages and spent time visiting with the 12 vendors who participated in this years' event. Each rider received a 2006 Fiesta Credit Unions 4 Kids Medal and two movie passes to the Alamo Drafthouse Cinema. Also, each rider could by a hat, shirt and extra Fiesta medals the day of the event too. The event was a huge success bringing in over $5,400.00 money coming in from the sponsors, sale of items and rider entry fees.
You can stop by the credit union if you want an extra shirt, hat or 2006 Fiesta Credit Unions 4 Kids Medal.Thank you all for helping make this years event another success!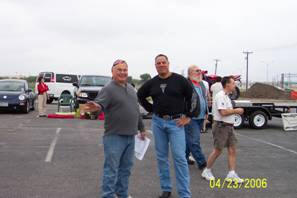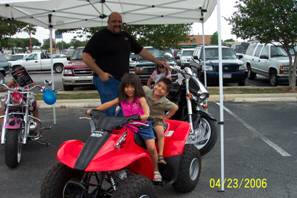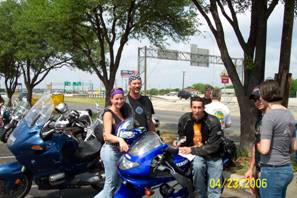 Jonathan Matthews organized this ride and it was even bigger and better then last years event. Click here for the original flyer for this ride. There were two rides, a short one of 125 miles and a longer one, 175 miles. There were 20 observations for the long ride that were required to be made for those participating in the rally contest. Shown below is a GPS map used by Joseph Stateson, one of the riders. If you click on it you will notice that Tarpley Texas is shown near Bandera. That is incorrect, it is to the right of Utopia where that TXHillRoad waypoint is shown. Just goes to show you cannot always trust a computerized GPS system. The actually map used by the riders for the rally was correct.

Next 3 photos were from parking lot at Alamo Draft House Theater. The guy who brought the dynojet had a busy day.
Next three photos lead to Hondo were we filled up. Next time we got to pick a place that has pay-at-the-pump.




One of the questions in the rally book was about a massacre.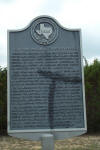 All the above photos were from Tarpley texas and we ate at the Steel Horse Inn. Story about that restaurant is here. Next stop was in Vanderpool. There was supposed to be a motorcycle museum somewhere but we did not pass by it on this ride. In line ordering: Adam Matthews (black hat), his girl friend, and Sandra Segovia and Scott Meckel. Next photo, sitting down in front: Don, David, Sandra. In back Tina and Steve and Sandra's fiancé Scott.
Shown above was Medina. Photo on left: Adam and his girl friend and Daniel and his wife with John Duck adjacent in right photo. The "Old Timer" store had the biggest and thinnest sliced beef jerky I had ever seen. The next stop was Bandera for gas and somewhere around Pipe Creek was a buffalo preserve and I pulled over to take some photos of the buffalos.







We left at 10:45 and got back about 4pm. The dynojet guy was still busy giving out tests.